Humane Way offers products for the homeowner and professional that are easy to use, and safe for both the handler and the animal. We offer several trap sizes to fit your needs.
We offer: 
Humane Way Standard Traps
The standard trap line are our most economical traps, built professional tough and homeowner friendly.
Features include:
Spring loaded gravity action door
Simple, safe and humane
Positive locking spring action door latch
Enlarged plate for better hand protection
Reinforced doors and latches to avoid wild animal's escape
Galvanized, then black powder coated anti-glare for extra long life
All internal moving parts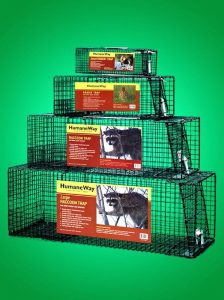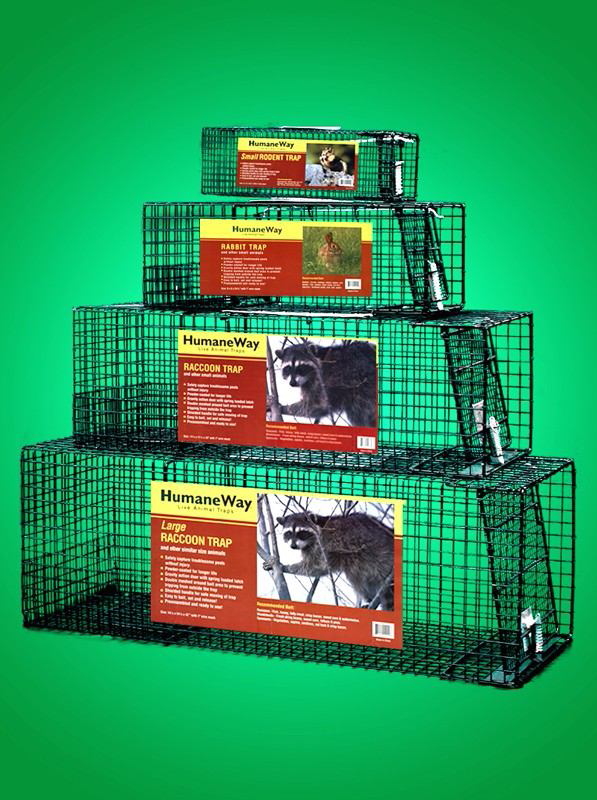 Click

Here

for a diagram of our pre-assembled traps.
Humane Way Easy-Up Folding Line
Features include:
From nearly flat to assembled in seconds – simple, fast, and no tools necessary
Compact for easy storage and transport
Spring loaded gravity action positive locking door mechanism
Galvanized, then black powder coated anti-glare for extra long life
Extra shielded carry handles and protected bait area
Easy-Up Pro is the most popular size in North America
Easy-Up Giant is the largest size that ships without UPS oversize charges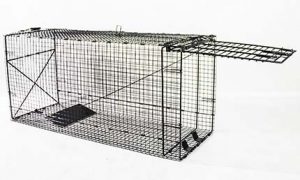 Click
Here
for a diagram of our Easy-Up Pro collapsible trap
Click
Here
for a diagram of our Easy-Up Giant collapsible trap
Our 914050 trap does have a wire connected to the two latches that will allow you to open the cage from the back. If you attach another wire to that wire you should even be able to open it up from quite far behind it. I would do a few test runs of trying to open it up from far away before you actually get the animal inside it so you are comfortable with the process.
An important step is to contact animal control to ensure that you are releasing it in an allowed zone.
Make sure you wear long clothing and wear safety gloves whenever handling the trap with the animal in it. Once the animal is inside you are going to want to cover it up to keep the animal calm. Right before releasing you will want to remove the cover from at least the front half of the trap so the animal knows it can escape. You will want to be in an open grassy area so that the animal has a clean shot to escape. As long as you are a safe distance behind the animal should run right out the front of the trap to safety.
If you sense the animal is being overly hostile or violent when in the trap you will want to contemplate if a live release is the best option. In this situation it is definitely better safe than sorry. Hopefully that helps and if you have any more questions please feel free to reach out. Be safe!
Here is a nice article that gives you some of the basics of safely releasing.
https://www.solutionsstores.com/how-to-release-an-animal-from-a-live-trap
Humane Way Traps with Rear Release
Features Include:
Safely capture troublesome pests without injury to you or animal
Sliding rear door for safe and simple transfer or release of captured animal
Spring loaded double action door mechanism
Shielded handle for safe moving of trap
Long lasting galvanized and powder coated wire
Easy to bait, set and release
We carry the most popular sizes in North America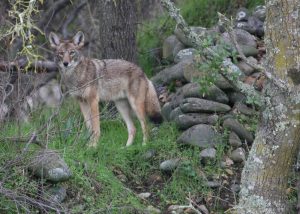 Small: Smaller animals including squirrels, chipmunks and other small rodents.
Intermediate: Small to medium size animals including smaller rabbits (hares) and groundhogs.
Medium: Mid-size rodents including average size racoons, larger rabbits, feral cats and skunks.
Large: Larger mammals including larger racoons, skunks, armadillos and stray dogs.